Tutorials
basic
your first simulation
advanced
---
This page describes how to run the provided examples
Suppose that you install GranOO in a somewhere directory. If you go inside the granoo distribution, you will see the following file structure
Now, go to the Example directory
You can observe that examples are organized by category. Be careful, some examples are not up-to-date. To get the list of up-to-date examples, you can take a look in the readme.md file. Now, we are going to run the Rain example under the Granular category.
You will see the following data structure
You can observe that only source files are present. You must compile them to run the example. The compilation process is assisted by cmake. cmake is a cross-platform compilation tool for C++ programs. A good way to use cmake is to invoke cmake in a temporary empty directory. Generally, this temporary directory is named build.
Go inside this new dir
You can check if you are in the right directory with the pwd command
Now, you must invoke cmake. cmake needs to locate the path where the CMakeLists.txt file is.
Now, you must invoke the make command (or nmake for windows user) to start the compilation process.
If you take a look at the current directory structure, you will see
Now, we want to run the example. You must return to the upper directory.
Run the rain.exe executable file. Note that granoo executable generally needs an input *.inp file. The input file are very important for understanding granoo. You will learn it in detail in further steps of this tutorial.
Now, if you look at the current directory structure. You must see a new directory named Results. This directory simply contains the result files of the simulation. In this case, result files are simply Granoo Discrete Domain *.gdd files. A gdd file is a snapshot of the simulation at a given iteration number.
GranOO embeds a custom 3D viewer able to read gdd files. The viewer is named granoo-viewer. If your install is ok, you can invoke this tool from anywhere as it follows
You should see something like this.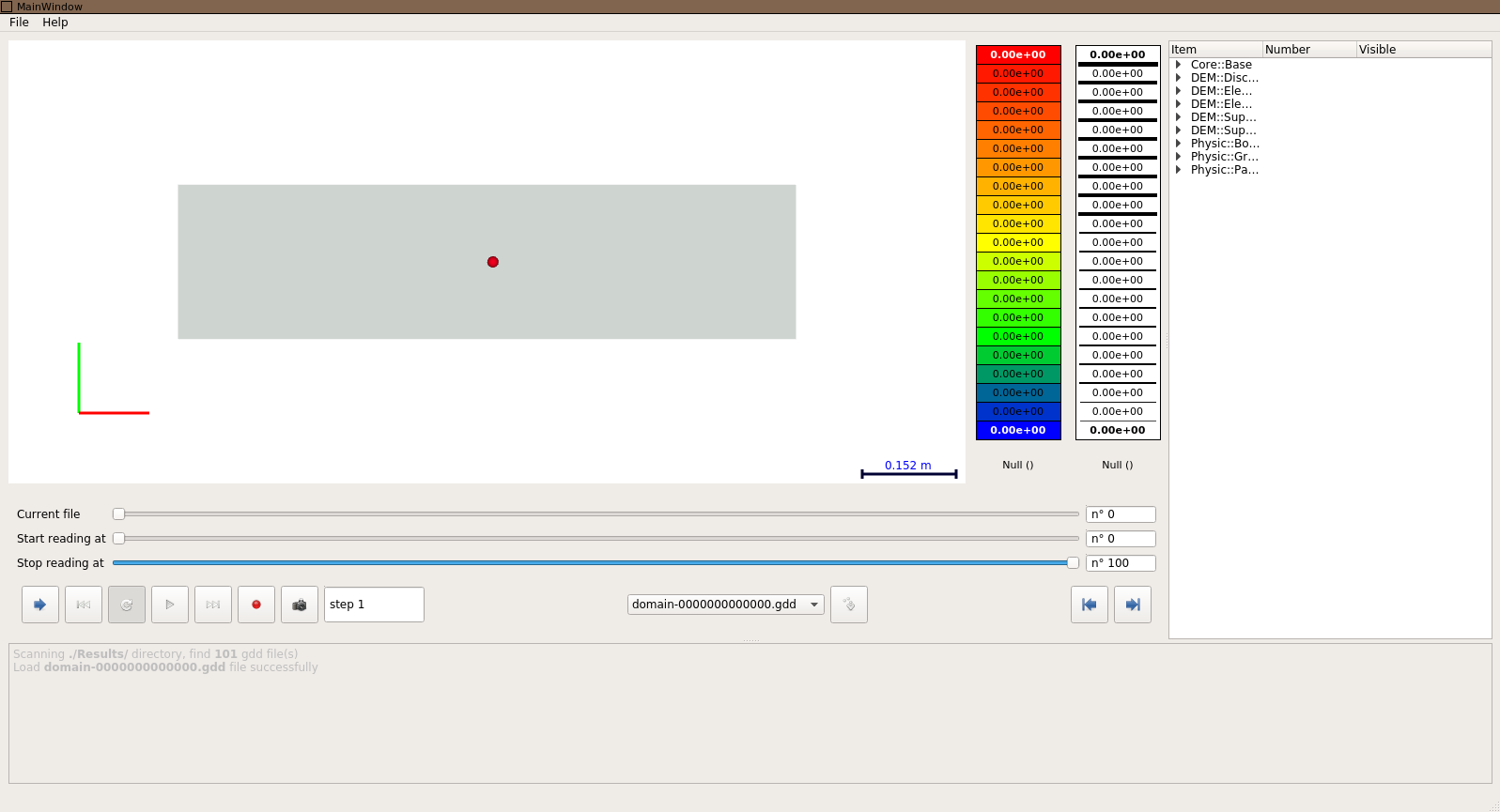 You can push the play button and observe your simulation.
You can repeat these tutorial steps for any up-to-date example. For some examples, note that input files may be located in a inp directory.